Most of Muscrat's clothing is one of a kind vintage. As vintage sizes vary in comparison to today's sizing, it's best to check your measurements with what is listed in the description of each individual garment. Here's how to measure yourself...
You'll need:
How To Measure: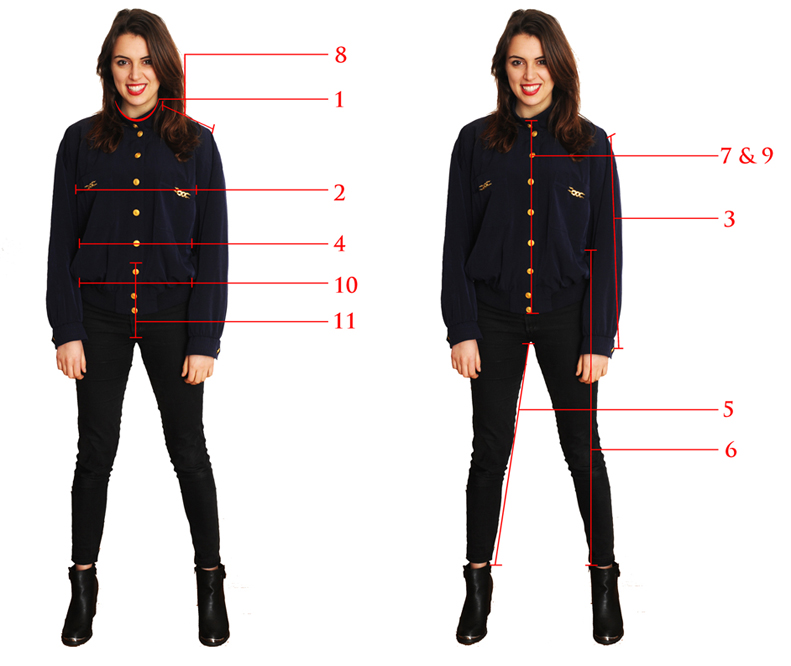 Measure around entire neck base where garment fits

2 Bust

Measure around fullest part place tape close under arms




make sure tape is flat across the back

3 Sleeve

Measure from shoulder seam




down the outer arm to the wrist hem

4 Hips

Measure around natural hips

5 Inside Leg

Measure from top of inside leg at crotch to ankle bone

6 Outside Leg

Measure from natural waistline to ankle hem

7 Centre Back Length

Measure your back from the center of the collar seam to the bottom hem

8 Shoulder

Measure ONE side of your shoulders, from edge of neck to edge of shoulder

9 Waist

Measure around the smallest part of your waist

10 Hips

Measure around fullest part of hips and bottom

11 Rise

For Jeans and shorts - Measure from crotch up towards navel

Care Guide

Always read the care label and washing instructions before washing your clothes.

Arrange your laundry into groups with similar wash care instructions and organise into whites, darks and colours.

The care label washing temperature is the highest permitted temperature.




But if you are unsure, always wash on COLD.

Turn garment inside out before washing.

Wash woolens and delicate fabric in Wool Wash, on COLD setting

Avoid using too much detergent.

Do not use fabric detergents which contain bleach.

Do not tumble dry garment unless indicated on the care label.

Do not iron prints, trims or embellishments.

Do not leave garments with white and contrast coloured panels soaking for prolonged periods.

Garments with metal trims should not be left to soak.

Don't wash knits or woolen garments in hot water, they'll shrink!